The passion and soul of European craftsmanship art – this embodies the Laguiole Made in FRANCE forge Forge de Laguiole since 27 years. Forge de Laguiole often describes its high- qualified craftsmen as "heart makers". A visit in the forge shows the reason very quick. Their talent and technique has been refined through many years – learned from the old generation and given to the following generation. A Forge de Laguiole pocketknife lived even before it is given to hand of its lifetime owner through the passion and devotion of the artist who forged it and through every pair of hands that gave contribution to create a unique, perfect masterpiece.
Lots of the over hundred steps which are necessary to finalize a masterpiece staid unchanged in the forge since 1987 and most of the production runs are made by hand this very day.
Laguiole a long tradition
The history of the laguiole knives goes back to the 19th century. Since that time the knives have been manufactured in the Aveyron Region in south-west France. Before the laguiole knives were developed there were the smither forged detached knives, called "Capouchadou's". Later on the companys started to develop switchblades. For those switchblades the smith Pierre-Jean Calmels invented the unique switch mechanism. With this mechanism the blade was able to fold into its handle, which lead to the creation of the folding knife. The history of switchblades began in the 17th century where the knives were called Navajas. The spanish word "navaja" is translated as mussel and indeed the switchblades had the shape of a mussel. Young french artisans from the Aubrac region who travelled trough Andalusia discoverd those knives and learned their construction. With this new-found knowledge and skill, they returned to their homeland where they continued to develop the knives. Every man and every woman in France no matter if old or young carried a lagouiole knife with themselves. The switchblades were popular because it was easy to hide them under the clothes. The incredible craftsmanship, remarkable sharpness of the blade and extraordinary quality of the materials all contribute to the knife's legendary status and are considered unique cultural property of France.
Damasc knives, knives with engraved bee and special editions

Forge de Laguiole offer in their forge a wide range of knives like: Special editions, Forge de Laguiole Traditional knives, Forge de Laguiole knives with engraved bee, Forge de Laguiole Double Platines, Forge de Laguiole Damast and Forge de Laguiole Plein. The Forge de Laguiole special edition consists also of noble cigar cutter made from high quality noble steel. Fans of knives with olive wood, snake wood or horn should take a look at the Forge de Laguiole Traditional knives and most likely will find their dream knife in this edition. Forge de Laguiole knives with engraved bee are very special. The feather and the bee of these knives are hand engraved and the knives are made of bog oak or amourette wood. The Laguiole Edition Double Platines are an absolutely must have for all Laguiole Fans. These double plated knives truly have everything: forged bee, shepherd's cross, wonderful hand engraved chasings, just everything what on can dream of in an original Laguiole knife. The legendary Forge de Laguiole Damasc knives named by the Syrian capital Damascus are made from Damasc steel having been folded 500 times and therefore making every single knife unique. A very special knife collection is the Forge de Laguiole Plein edition. These knives are made from olive wood and bog oak and each of them is a beautiful artwork.

http://www.original-laguiole.com/cat/225
___________________________________________
General information

Our shop was born out of passion for these wonderful Laguiole knives that were created with love and devotion in your workshops, and whose tradition reaches further back than many would believe.

We maintain a tight and friendly relationship with virtually all known knife makers. We work together to carry on the tradition -- the survival, even -- of the smallest knife makers, and are definitively invested in the survival and livelihood of Laguiole knives in Germany. When you purchase a knife through us, we guarantee that it will come directly to us from the knife maker in France, then right to your front door. 100% Original Laguiole, 100% handmade knives.

We are co-founders and members of the A.I.P.C.L. -- www.aipcl.com -- (L'Association international des proprietaires de couteaux Laguiole) whose goal is the preservation of the Laguiole tradition. The A.I.P.C.L. is officially supported by the most important of these knife makers, like Laguiole en Aubrac, Arbalete G. David, Honoré Durand, Le Fidele, Claude Dozorme, Phillipe Voissierés, Line-Golz, and many more.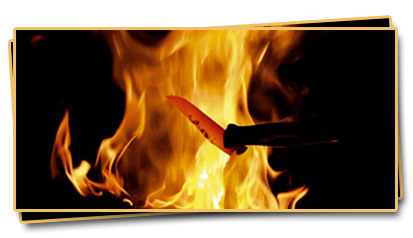 World of Innovation Inc.
4100 Spring Valley Road, Suite 510
Dallas, Texas
TX 75244
USA

SINCE: 1999