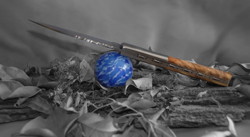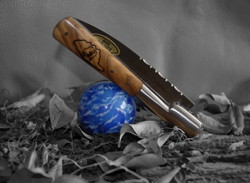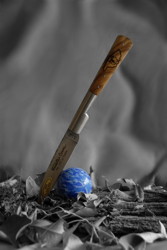 Le Fidele pocket knife Vendetta Bois olivier, a beautyful knife from olive wood
The handle of this knife is made from old olive wood and is aditionally decorated with the contours of Corsica. Olive is a european hardwood with a high percentage of ethereal oil. Olive wood is mostly imported from the spanish region of Andalusia. The structure and the grain of the wood is very distinctive. Through its high percentage of oil, this wood is paticularly hygienic and antibacterial. It is characterized by a high moisture-resistance and is one of the strongest, heaviest and robust wood types. The length of the blade is 9,5 cm and the handle is 12,7 cm long. The blade is made of 12C27 high quality steal. This knife can be bought for US $ 99,50.


Le Fidele has been a family company for decades. Their cuttler's shop is located in Lezoux a commune which belongs to the Auvergne region in central France. In their small shop, Le Fidele produces traditional Laguiole products such as pocket knives, steak knifes, steak forks and waiter's knives. If you are looking for a reasonably priced and solid cutler shop with a compelling price/perfomance ratio this is your best choice. Le Fidele is well known for their waiter's knives. Their grip plates are made from bocote wood. Bocote (Cordia gerascanthus), also called "Mexican rosewood", is a very decorative hardwood from South America. The single-striped grain ranges from a dark brown to black, contrasted against a coffee-brown background, aged to a beautiful warm-brown tone that clearly accents the black grain!
The forge Le Fidele is also a member and co-founder of the A.I.P.C.L (l´association international des proprieétaires de couteaux Laguiole). The aim of the A.I.P.C.L is to obtain the old Laguiole tradition. If a laguiole blacksmith practices his craft with passion he creates a handmade individual artwork with every knife. He knows that there are a lot of Laguiole knives around the world which are manufactured mechanically in cheap mass production and wrongly sold as original Laguiole. Costumer who expect a "made in France" Laguiole are dissapointed when they see the quality of this products not knowing that the original Laguiole have a much better quality and are manufactured individually. The A.I.P.C.L is the only organization world wide which publishes an authenticity certificate for nearly all forges in France. You can be sure that you carry a 100% original Laguiole knife made in France in your hands if there is a authenticity certificate nearby.

All knives that are offered at original-laguiole fulfill the strict trade requirements of the world protection of species conference (CITES) at the usage of tropical woods, horn or ivory for the knife grip plates.

___________________________________________
General information

Our shop was born out of passion for these wonderful Laguiole knives that were created with love and devotion in your workshops, and whose tradition reaches further back than many would believe.

We maintain a tight and friendly relationship with virtually all known knife makers. We work together to carry on the tradition -- the survival, even -- of the smallest knife makers, and are definitively invested in the survival and livelihood of Laguiole knives in Germany. When you purchase a knife through us, we guarantee that it will come directly to us from the knife maker in France, then right to your front door. 100% Original Laguiole, 100% handmade knives.

We are co-founders and members of the A.I.P.C.L. -- www.aipcl.com -- (L'Association international des proprietaires de couteaux Laguiole) whose goal is the preservation of the Laguiole tradition. The A.I.P.C.L. is officially supported by the most important of these knife makers, like Laguiole en Aubrac, Arbalete G. David, Honoré Durand, Le Fidele, Claude Dozorme, Phillipe Voissierés, Line-Golz, and many more.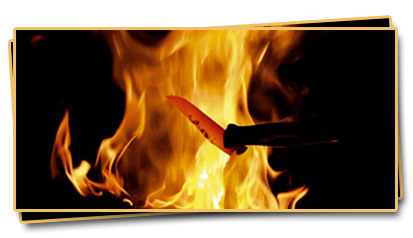 World of Innovation Inc.
4100 Spring Valley Road, Suite 510
Dallas, Texas
TX 75244
USA

SINCE: 1999